Our pension in the region of Kaszuby – Gościniec Zagaje – is a charming and perfect place, where we particularly care about exceptional culinary experiences of our guests every single day. Our specialities are tasty and beautifully served, so that you could set off on a culinary journey with all your senses.
Our delicacies stand out for their perfect quality, freshness and diversity. We make the most of ourselves to enable you to try authentic tastes, eat delicious and healthy dishes. We buy products from our local suppliers to benefit from what is best in the natural richness of the Kaszuby region. Each patch of the local land is a source of unique tastes to us!
Every single moment do we care about the best frame of your body and mind. We are authentic taste lovers! In Gościniec Zagaje you will find eggs from healthy, cottage hens, meat, ham and sausages from the local suppliers and fish right from local fisheries. We smoke meat and fish ourselves to enrich it with a unique smoky aroma!
DELICIOUS PLACE WITH HEART AND SOUL
Our chefs are real magicians!
What is so magical about our cuisine? It is our knowledge that it is not only food. We cook with love and feeding our guests makes us all happy. You will feel at home here! Enjoy our delicacies while surrounded by nature and sincere closeness. Our wonderful chefs will envelop you with aromas of magical herbs and rays of their smile. Lazy morning meetings with scrambled eggs will strengthen you with some positive energy while fresh, delicious, homemade bread will spice up your blissful mood for the whole day! Our chefs fulfill your wishes - they will prepare local delicacies like batter noodles, potato pancakes, omelets, pancakes and other local specialities at your order! You will experience homemade food, like at your grandmother's house!
EXCELLENT DISHES, BREAKFASTS, LUNCHES, DINNERS, SUPPERS AND DESSERTS INSPIRED BY ALL TREASURES OF THE KASZUBY REGION!
For breakfast you will taste our health eggs as you desire – soft-boiled, fried, scrambled, omelets…  And all of them are enriched with diverse, fresh vegetables, ham, or cheese. And all this with the addition of delicious, homemade bread, fresh rolls and buns made from health flour and baked on the spot!
We buy meat, ham and sausages from the local suppliers only. Best beef comes from healthy cow breeding. We prepare delicious pate which melts in your mouth! Our aromatic meat dishes are full of taste!
Fish, which we prepare for you in many ways, comes from local, clear fisheries. It is always fresh and healthy! We smoke meat and fish ourselves which enriches it with a unique, wonderful, smoky taste. Do you like herring in the way it is prepared in the Kaszuby region? That is great! We shall prepare it for you willingly! It is delicious!
In Gościniec Zagaje you will have an opportunity to try such local specialities like roasted trout, smoked whitefish or sturgeon. 
You will also taste homemade preserves from eco apples from our orchard in Zagaje. In autumn you can also try fresh apples, picking them right from a tree. We prepare delicious apple mousse, refreshing juice and healthy apple vinegar. These are our real, local treasures!  
Our honey comes from a happy apiary and is unique! In every drop of this golden delicacy, which we add to desserts, lemonade or drinking water, you, as our guests, will taste the real nature and its harmony.  Superior desserts will satisfy all expectations, because in our cuisine every taste is special and each component is priceless. 
We also prepare spices ourselves: deacidifying salt, traditional and vegan lard and delicious hummus. You must try our pesto from bishop's weed! We pick herbs ourselves and dry them because only prepared this way they add unique, special taste to our dishes.  
We know that only such a way of cooking is the priceless source of good health!
In 'mushroom season' you can take a basket full of dried mushrooms right from the Zagaje wood back home. You will pick them yourselves and we shall dry them for you willingly.  
Our food is a feast for your senses, where taste, aroma and aesthetic melt blissfully. Each bite at breakfast, lunch, dinner, dessert or supper will bring a smile on your face and give blissful joy! 
WHAT OUR GUESTS WRITE ABOUT OUR MEALS?
"Pyszne, urozmaicone potrawy, wypiekane na miejscu ciasto i pieczywo. Ser i mięso z własnej hodowli. Cudowne jezioro Piasek w odległości 200 metrów od obiektu z bajecznie czystą wodą. W kilku miejscach możliwe zejście do jeziora prosto z lasu,..."
Wiem, że będę chciała tam wrócić. Cudowne miejsce w otoczeniu lasów, w pobliżu jeziora. Domowa, ciepła atmosfera i pyszne jedzenie. Duża dbałość o każdy detal czyni to miejsce naprawdę wyjątkowym. Gorąco polecam wszystkim, szukającym ciszy i bliskości natury. Nie mam uwag.
Cudowne klimatyczne miejsce Lokalizacja z dała od zgiełku miasta, dużo atrakcji w gościńcu (bilard, rowery, leżaki, gry planszowe i książki, miejsce na grilla i ognisko) Blisko jeziora. Bardzo miła Pani właścicielka, oraz szefowa kuchni, Śniadania pyszne zawsze świeże i przygotowywane na bierząco. W pokojach czysto i schludnie, na plus lodówka znajdująca się w pokoju i moskitiery w oknach. Plus za możliwość przyjazdu z psem. Jesteśmy bardzo zadowoleni z wyjazdu
Pyszne jedzenie, czyste i pięknie urządzone pokoje. Cisza i spokój, idealne miejsce na odpoczynek. Dużo rozrywek na terenie gościńca, świetnie zorganizowana przestrzeń.
ZAGAJE DINER IN SLOW PACE
In Gościniec Zagaje you will have your delicious meals in our quaint dining room, but,when you want a lazy morning, we serve your breakfast in your room:). Relax in the slow pace, we shall prepare your meals and serve them in your chosen time.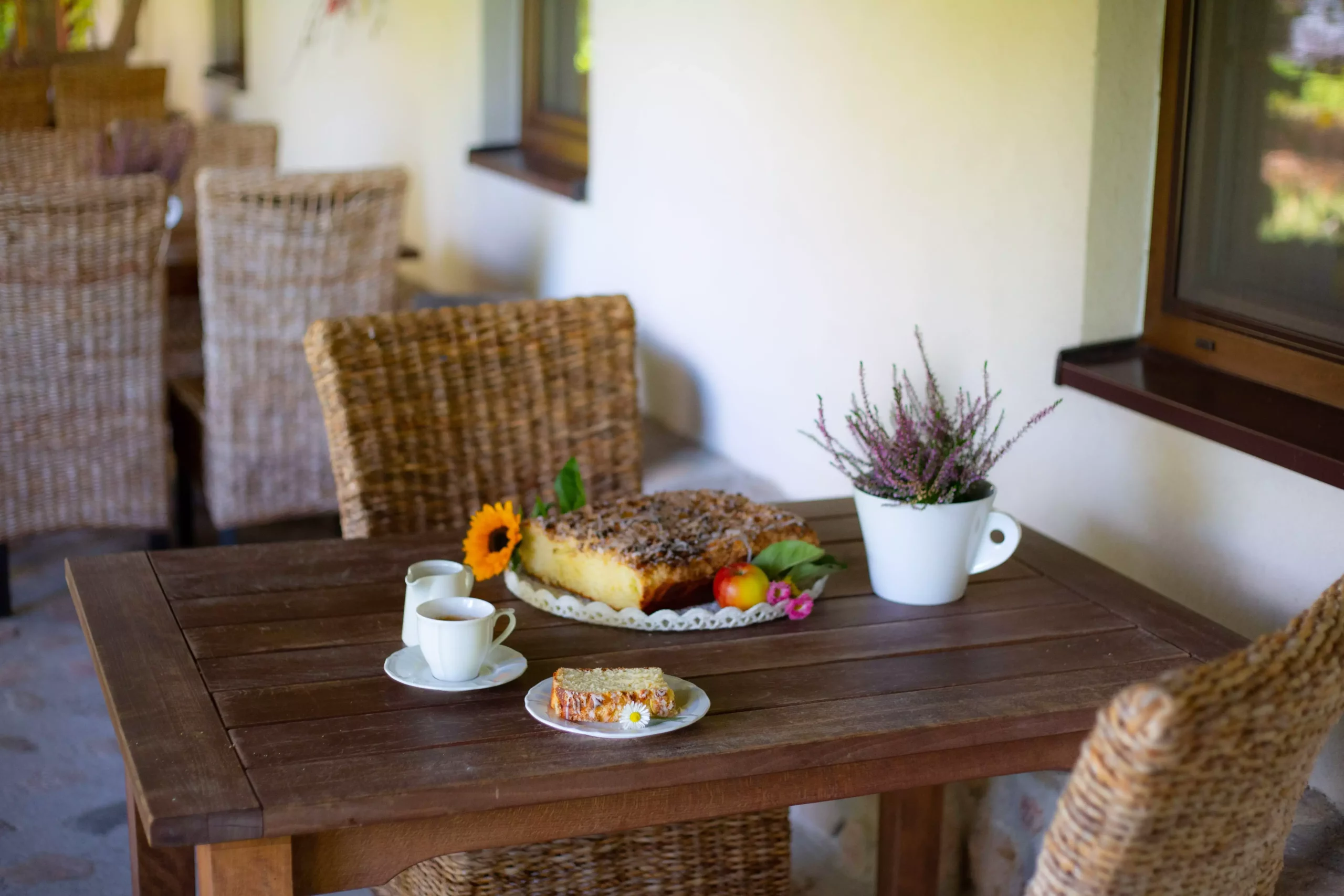 You must visit our Zagaje Pantry. Here you will find delicacies from local meadows and fruits of our labour.  All closed in cute jars and tins! 
In Gościniec Zagaje we shall feed all your senses tastefully!